Taceedo 120mg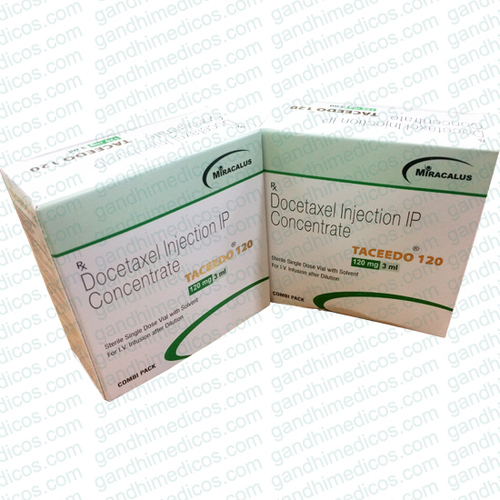 Taceedo 120mg
Product Code : Docetaxel(120 Mg)
Specification:
Medicine : Taceedo (120mg)
Name: Taceedo (120mg)
Type: Injection
Manufacturer: Miracalus Pharma Pvt Ltd
Generic Use: Docetaxel
Composition: Docetaxel(120 Mg)
Typical use Of Docetaxel : Gastric Cancer, Metastatic Carcinoma Of Breast, Non-small Cell Lung Carcinoma, Ovarian Cancer, Pancreatic Cancer, Squamous Cell Carcinoma, Squamous Cell Carcinoma Of Head.
Mechanism of action of Docetaxel : Docetaxel Disrupts The Microtubular Network In Cells That Is Essential For Vital Mitotic And Interphase Cellular Functions. It Binds To The Free Tubulin And Promotes The Assembly Of Tubulin Into Stable Microtubules While Simultaneously Inhibiting Their Disassembly, Resulting In
Inhibition Of Mitosis.
Side effects of Docetaxel : Neutropenia, Mild Paresthesia, Cutaneous Reactions, Asthenia.
Trade Information
Main Export Market(s)
Asia, Australia, Central America, North America, South America, Eastern Europe, Western Europe, Middle East, Africa
Disclaimer:-
The information on the website www.gandhimedicosindia.com is for your information purposes only and is not a substitute for professional medical advice, diagnosis and treatment. Please consult with your doctor before using any product discussed within this website.
Contact Details
GANDHI MEDICOS
Mr. Simranjit Singh Gandhi (CEO)
Mobile : +917259671882